The Andrew J. Kuehn Jr. Foundation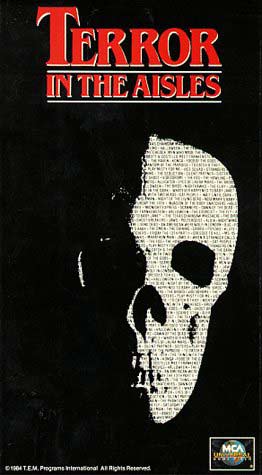 Undaunted, Kuehn took time to choose his projects thereafter, often using his own money to develop material that interested him. Ultimately, it was in the realm of documentary filmmaking that Kuehn made his mark. In 1982, Ray Stark hired Andy to produce and direct a documentary about his blockbuster musical, "Annie." Kuehn´s cleverly shot, edited and scored film, "Lights, Camera, Annie," generated large, enthusiastic TV audiences when it aired. Kuehn considered this long-format featurette among his finest work.
In 1983, Kuehn directed and produced a documentary concerning one of his favorite film genres: horror. "Terror in the Aisles," a 100-minute gorefest hosted by Karen Allen and Donald Pleasance, was an informative and terrifying clip show of classic horror films. To this day, "Terror in the Aisles" remains a must-see for self-respecting horror enthusiasts.
In the early 1980s, Andy bought out his partner Dan Davis and took upon himself sole ownership and financial responsibility for Kaleidoscope. His success in staffing Kaleidoscope with first-rate management, creative and operations teams allowed him to withdraw somewhat from the punishing hours that the industry requires. Kaleidoscope flourished and Kuehn prospered. Ultimately, however, Kuehn measured his success by how many of his talented employees bought homes and financed college educations from the salaries and bonuses that Kaleidoscope paid.
Jump to page: 1 2 3 4 5 6 7 8 9 10 11 12 13 14 15 16 17 18 19 20 21 22