The Andrew J. Kuehn Jr. Foundation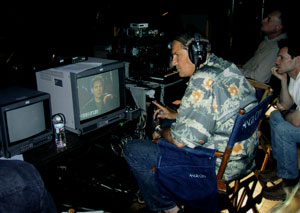 Kuehn next produced and directed a three-hour documentary for Warner Home Video, narrated by renowned singer and musical historian Michael Feinstein. Premiering on PBS in 2002, "The Great American Songbook" examined the evolution of the popular American song, from its roots in Colonial America to its zenith on Broadway in the years between 1920 and 1960.
As might be expected, Andy´s accomplishments did not go unnoticed. In 1994, he was saluted at a gala evening banquet at the Cannes Film Festival, which awarded him its lifetime achievement honor. On the tribute reel dedicated to his career, more than 1000 trailers were credited to Kuehn, including re-releases for "Casablanca," his favorite film, and the 1927 silent epic "Napoleon."
Cannes Festival organizers may have taken their cue from the Hollywood Reporter´s Key Art Awards, which, the year before, presented its lifetime achievement award to Kuehn for his contributions to the design and creation of motion picture marketing materials.
Jump to page: 1 2 3 4 5 6 7 8 9 10 11 12 13 14 15 16 17 18 19 20 21 22