Biography
Celebrating a Life Well Lived: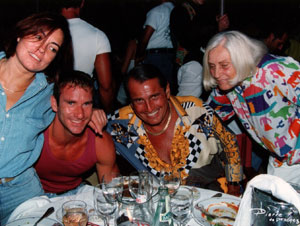 Andy Kuehn was a remarkable man who lived a remarkable life. He not only changed an industry, but he did so with style, grace and confidence. Like other persons of distinction, Andy was both shaped by and gave shape to his circumstance. He was an agent of social, cultural and political change who lived fully within the world. Given his rise from modest beginnings, the determined, thoughtful use he made of exceptional talents, the ambition that propelled him forward, the strength of character that commanded respect and the wealth of personality that made him a beloved figure in the lives of many, his life is also a truly American story.
Born Andreas Julius Kuehn, Jr., on September 24, 1937, to Andreas Julius and Eva Kuehn (nee Ekenberg), Andy was raised on the South side of Chicago, Illinois. His father was born in the United States, then educated in Germany, before returning to Illinois to attend university. In the US, Andreas Sr., worked as a salesman and local ward politician in the disadvantaged and predominantly African-American neighborhood of Kendall. Eva, a first-generation Swedish-American, ran her own millinery business, oversaw the family finances and shared her love of theatre and cinema with her two children, Andy and his older sister, Andreva. In later years, Kuehn claimed that he had raced through childhood, assuming adult responsibilities and developing adult relationships at an early age.
Jump to page: 1 2 3 4 5 6 7 8 9 10 11 12 13 14 15 16 17 18 19 20 21 22