The Andrew J. Kuehn Jr. Foundation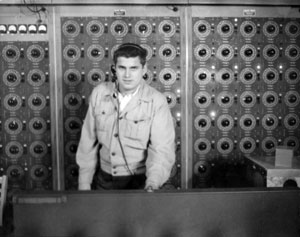 During the three years he spent at the University of Miami, Kuehn was obliged to work full time. He soon secured a job at Bob Lorie Films, producing drive-in theatre advertising for local merchants. Kuehn hired two college friends to help produce these commercials. Classmate John Kelly, a dramatic arts student, provided the acting. Roommate Mike Shapiro—himself to become a trailer maker, senior studio marketing executive and distinguished documentary filmmaker—constituted the one-man production staff. It was a seat-of-the-pants operation: the first time that Kuehn would see his completed work was on-screen at the drive-in theatre.
Kuehn next produced a local radio show with John Kelly as the host, featuring interviews that Kuehn himself conducted with famous performers and celebrities who worked the showrooms at the fabled Fontainebleau and Eden Roc Hotels during the Miami season.
Kuehn´s best job during his time in Miami was as the floor manager for a local televised sports show, on Channel WTVJ. Five nights a week, Kuehn would write and enter the teleprompter text and then ensure that guests looked into and addressed the appropriate camera during the live broadcast. It was practical, hands-on training for much of what was to come.
Jump to page: 1 2 3 4 5 6 7 8 9 10 11 12 13 14 15 16 17 18 19 20 21 22