The Andrew J. Kuehn Jr. Foundation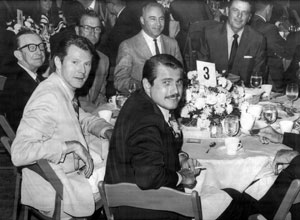 Kuehn´s success with "Night of the Iguana" convinced senior management to give him a freer hand in running the promotional film and TV department, allowing him to implement his ideas about trailer making for the production slate of a major motion picture studio. His innovations were quickly imitated by marketing departments at other major studios.
It was perhaps no coincidence that the reinvention of movie trailers emerged in conjunction with the major cultural and political revolutions then underway in the US. As film historians and critics have noted, the complex of historical events that gave rise to a New American Cinema in the 60´s was both reflected in and influenced by that filmmaking. Consequently, Kuehn´s New American trailer was summoned into existence to meet the marketing needs of a different kind of film presentation exhibited to a different set of audience expectations.
For Kuehn, doing the best job possible wasn´t confined to film and film advertising. All his life, Kuehn worked to make things better, whether in politics and society or art and communication. In the 60´s, he marched, protested, spoke out for Civil and women´s rights, arguing against the war in Vietnam and counseling draft-eligible young men how to avoid being selected. Kuehn voiced principled, passionately held convictions about equality, personal liberty, opportunity and the pursuit of happiness that he supported with time, talent and money throughout his life.
Jump to page: 1 2 3 4 5 6 7 8 9 10 11 12 13 14 15 16 17 18 19 20 21 22